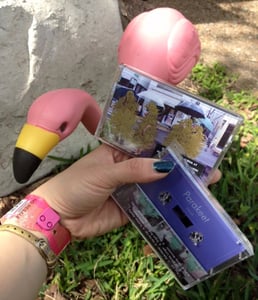 £

7.99
KASA, Parakeet's first studio album has the pure spirit of D.I.Y. All the tracks were recorded, mixed and mastered at home in London.
Japanese origin, Mariko has named their album KASA after seeing the artwork by Noriko Okaku, a Japanese fine artist and an animator based in London.
Mariko learned guitar when she was young and she came back to her roots this time after years of playing bass professionally. Her guitar, bass and vocal parts are well woven with each other. James' drum parts are tastefully played and solid. He has the policy of 'No drum solos'.
Their initial 2 piece, drums and bass approach has not changed. All the tracks make sense with drums and bass as Mariko is conscious of her bass parts not just playing root notes.
Mariko's lyrics are heavily influenced by modern Japanese literature and existentialism. She likes to project a vivid picture of her story as if you are in it.
Includes unlimited streaming of Kasa via the free Bandcamp app, plus high-quality download in MP3, FLAC and more.
Artwork by Noriko Okaku.
ships out within 3 days